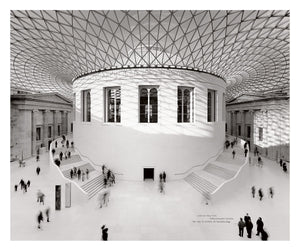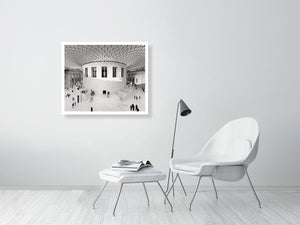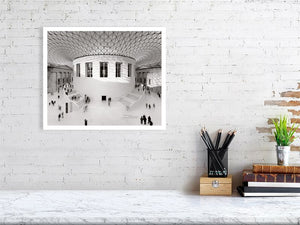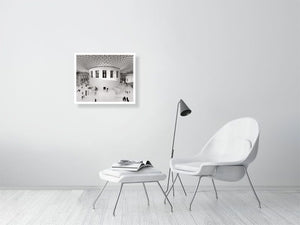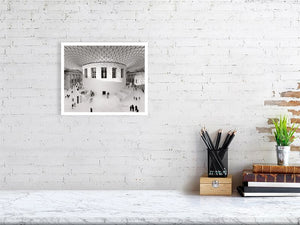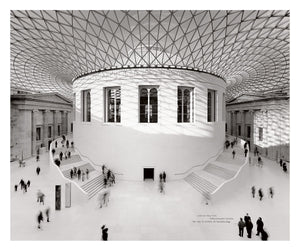 #023 British Museum Great Court
3,312 Sources of Light. Lord Tennyson's quote 'and let thy feet millenniums hence be set in midst of knowledge' from the Two Voices poem 1833-34 written six years before the formal emergence of photography in 1839 and engraved on the floor of the British Museum's Great Court, is oddly prophetic in describing the images created when you expose at 1 sec of shutter speed. The feet in this image anchor the presence of blurred people as they explore this triumph of modern engineering rising out from previous triumphs of the classical period. One second of time recorded on 14.12.2000 at 14.30 with a Linhof Tecknikardan 4x5 using a 45mm lens at f22. The tessellating glass roof has 3,312 panels.
Printed on specially selected Hahnemühle German Etching, 310gsm, Giclée fine art paper with archival inks. Open Edition 297mm (A4) Height. Limited Edition of 350: 420mm (A3) Height; 150: 594mm (A2) Height; 100: 841mm (A1) Height.
Each Limited Edition image is accompanied with a Certificate of Authentication which is digitally signed, numbered and contains a unique holographic security stamp.